News
Half of the Championship Behind Us
November 25, 2016 08:12 PM
Six rounds are behind us, so we will take a look on the frontrunners in every category. Keep in mind thought that five full rounds still remain, so even a gap as large as 2 points can be erased with a perfect second half.
The top ranked players in category open 50+ all lost at least one point and so we have two international masters with 5.5 points in lead – Alexander Reprintsev from Ukraine and Nikolai Vlassov from Russia. Right behind them is a trio with 5 points – GM Keith C. Arkell from England, GM Georg Mohr from Slovenia and excellent trainer and author of the "Polar bear system" GM Henrik Danielsen from Iceland.
Top seeded GM Zurab Sturua from Georgia, who represented Georgia six times on the Chess Olympiad, including 4th place in 2002, is right behind these players with 4.5 points after his lost to IM Reprintsev in round 4. In this 16-member group of players with 4.5 points we can also find second seeded GM Franco Carlos S. Matamoros from Ecuador and third seeded GM Alexander Ivanov from USA. All these very strong players will definitely try to attack the top positions in the second half of the tournament.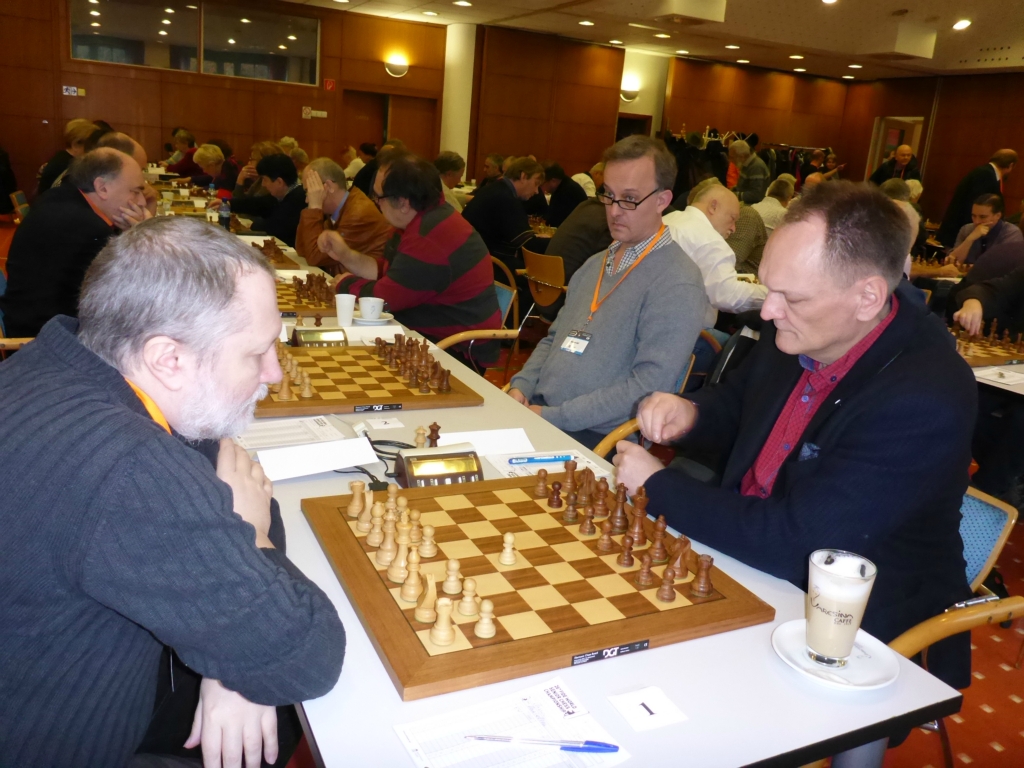 Round 5, board 1 in Open 50+: IM Vlassov – GM Danielsen, white surprised the opponent in the opening and won.
In the category for everyone older than 65 years, there are 3 players in the lead: IM Boris Khanukov from Germany, GM Evgeni Vasiukov from Russia and top ranked GM Anatoly Vaisser from France. GM Vaisser is trying to win this tournament for the fourth time already, but he is not the only one who was crowned World Senior Champion before – 83 years old GM Vasiukov is not only one of the strongest chess players of 1960s and 70s, but also the World Senior Champion from 1995! He is certainly proving that he is still a force to be reckon with in Marianske Lazne.
In the women's over 50 section, we have a single leader – top seeded WGM Elvira Berend from Luxembourg with 5 points, who is the only player from this small state at the championship, but represents its coloros very well. Right behind her with 4.5 points are WGM Yelena Ankudinova (who lost to WGM Berend in the 6th round) and second seeded WGM Galina Strutinskaia (who will play WGM Berend in the 7th round).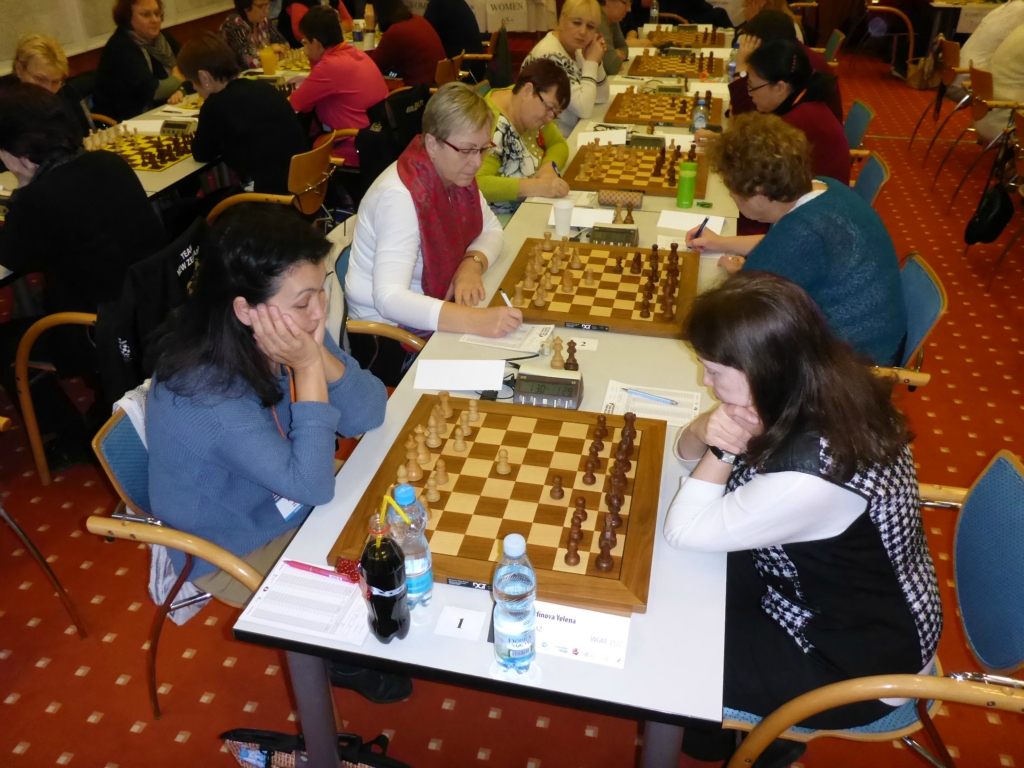 Round 6, board 1 of Women 50+: WGM Berend – WGM Ankudinova, white won creating her lead.
Traditionally smallest category is the tournament for women over 65 years. 18 players are playing in this category, so it will have "only" 9 rounds. These ladies therefore have 2 more free days, one of which is already behind us. After 5 rounds, everyone lost at least a point and we have a 4-member group in the lead with 4 points: WGM Elena Fatalibekova (Women's World Senior Champion from 2000, 2001 and 2004), WIM Tamare Sorokina (both from Russia), WGM Tamar Khmiadashvili and also the top ranked former Women's World Chess Champion GM Nona Gaprindashvili (both from Georgia).
Today was the only free day of the championship which many filled with prepared trip to Prague or with sightseeing in Marianske Lazne. A blitz tournament in the morning and a rapid tournament in the afternoon were prepared for those who wanted to rest by playing more chess.
70 players played in the 11-round blitz tournament. Winner was GM Jacob Meister from Germany with 9 points, followed by IM Nikolai Vlassov from Russia with 8.5 points and GM Keith C. Arkell from England with 8 points. The best woman was 4th WGM Elvira Berend from Luxembourg, also with 8 points and the best player over 65 years was 8th IM Lubomir Neckar from Czech Republic with 7.5 points. Full results and photogallery of the blitz tournament.
76 players found their way to Monty Hotel after lunch for the 7-round rapid tournament. Experience was king here as the tournament was won by GM Evgeni Vasiukov from Russia (who was also the best player over 65 years) with 6 points followed by GM Jakob Meister from Germany also with 6 points and GM Evgeny Sveshnikov from Russia with 5.5 points. Best woman was 14th WIM Nina Sirotkina also from Russia with 4.5 points. Full results and photogallery of the rapid tournament.
For organizers
Petr Pisk
731 465 344
petr.pisk@centrum.cz