News
World Senior Chess Championship 2016 knows its winners
November 30, 2016 10:09 PM
Two weeks in Marienbad, 11 rounds and the closing ceremony are all behind us and all there is left for the players is the trip back home. And when they return, they will surely have many great memories!
Marienbad helped to make this championship a beautiful and special experience with its gorgeous architecture and plethora of healing springs. The championship made a new record in participation, there were 470 players from 54 countries. Team of thirty experienced organizers was led by Dr. Jan Mazuch to fullfil all wishes of the participants. Another important piece in the puzzle to make a remarkable tournament is an experienced arbiter – and you would hardly find someone more competent than the Chief arbiter of WSCC 2016 IA Andrzej Filipowicz. Mr. Filipowicz is not only a world-class arbiter (the Chief arbiter of several matches for the World Champion title), but also a very successful player (member of Polish chess olympic team on 7 occasions).
On Monday evening, there was a meeting with chief of Senior Commission in FIDE Dr. Dirk Jordan, where the future of the World Senior Championship was discussed. Before round 10, players held a moment of silence for late GM Mark Tajmanov, who was not only an excellent chess player (champion of Soviet Union in 1956, candidate for the World Champion in 1953 and 1971 and World Senior Champion in 1993 and 1994), but also a virtouso pianist.
Now let us focus on the results. GM Giorgi Bagaturov from Georgia won the open category over 50 years after an amazing finish of 6 wins in the last 6 rounds. A full point behind him (and with a better result in the direct encounter against the third) was IM Alexander Reprintsev from Ukraine. In third place finished first ranked GM Zurab Sturua from Georgia.
Five players finished with 8.5 points in the O65+ category, so the tie-breaking system decided the championship. Only by a half of a point better tiebreaker than the second had GM Anatoly Vaisser from France, who is celebrating his 4th World Senior Champion title. Silver medal obtained GM Vlastimil Jansa from the Czech Republic and the bronze went to GM Evgeny Sveshnikov from Russia. The other two players with 8.5 points were IM Vladimir V Zhelinin from Russia in the 4th place and FM Clemens Werner from Germany on 5th place.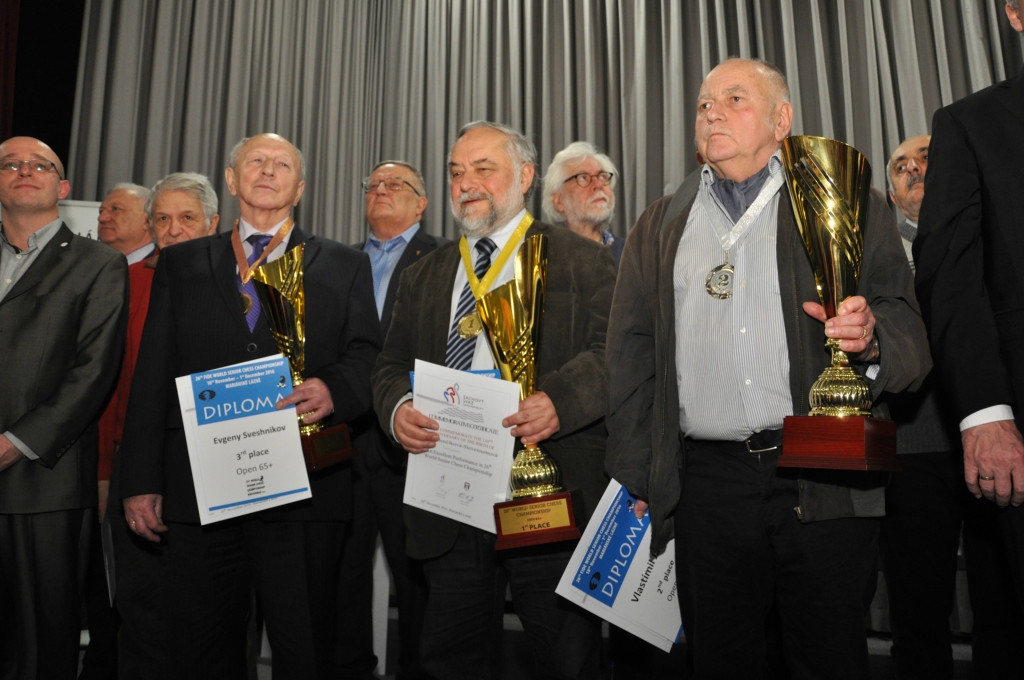 Top players in the open 65+ category
WFM Tatiana Bogumil from Russia managed to win the category for women over 50 years with an impressive finish. With 4.5 points in the last 5 rounds and especially with the win over first seeded WGM Elvira Berend in round 8, WFM Bogumil obtained not only the title of Women's World Senior Champion, but also the title of WGM. WGM Elvira Berend from Luxembourg, who lead the tournament for most of the time, finished "only" in second place. Bronze went to WGM Galina Strutinskaia from Russia.
No surprises happened in the category for women over 65 years. First seeded former Women's World Chess Champion GM Nona Gaprindashvili from Georgia allowed her opponents only 2 draws and became the Women's World Senior Chess Champion for the 3rd time in a row (and for the 5th time in total). WGM Elena Fatalibekova from Russia finished in 2nd place and WGM Tamar Khmiadashvili finished in 3rd place.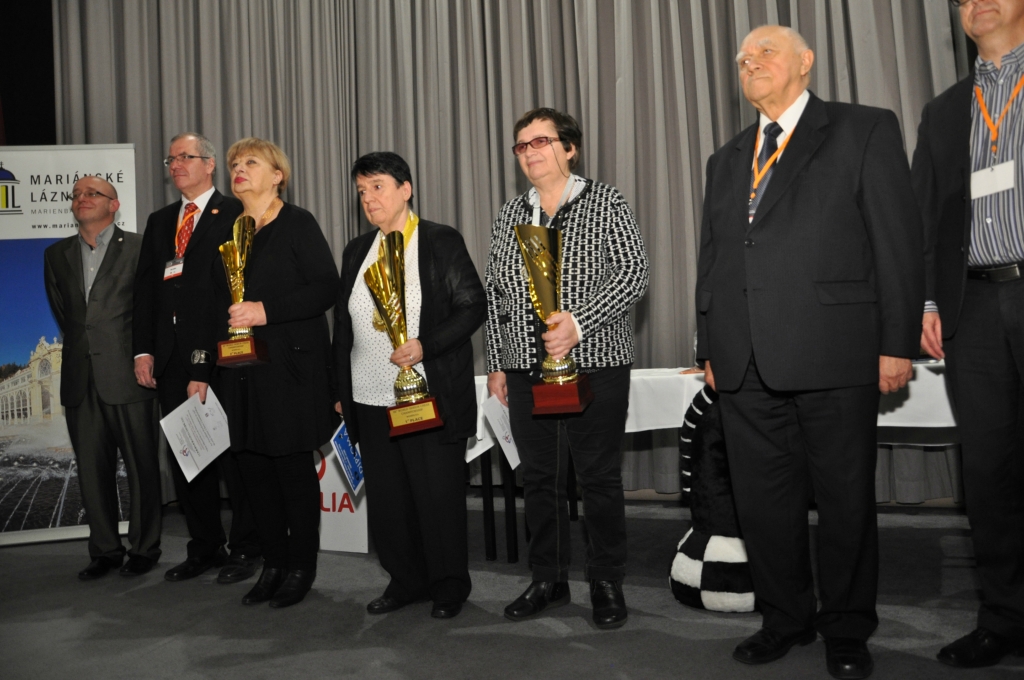 Medailists in the W65+ tournament
World Senior Chess Championship 2016 was held under the auspices of mayor of Marianske Lazne Ing. Petr Tresnak and with the financial support of the city of Marianske Lazne.
More photographies from the closing ceremony can be found here.
For organizers
Petr Pisk
731 465 344
petr.pisk@centrum.cz